Best Bryan Irrigation Systems
Here at Bryan Landscaping & Irrigation, we want you to have a quality sprinkler system! We provide different types of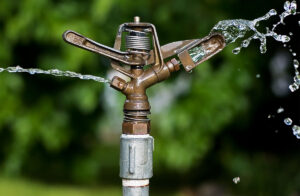 landscaping services like Irrigation, Drip System, Sprinkler System Installation, Custom Irrigation Systems, and irrigation Repairs.
Sprinkler systems, or irrigation systems, are a highly beneficial feature for many homeowners. Texas lawns need more water than most, and our irrigation systems are up to the task. When you hire Bryan Landscaping & Irrigation to install your irrigation system, you won't have to worry about purchasing additional materials. We provide all the parts necessary for installation, like sprinkler heads and pipes.
Why do I need a sprinkler system?
We are an irrigation system provider that recognizes that going outside each evening to water your lawn may not be feasible, but that does not mean that you cannot have a great looking garden. Instead of letting your lawn look run down, you can keep your lawn looking fresh and inviting by having a sprinkler system installed by our experts.
Perhaps you think that having a sprinkler system is too pricey and therefore not worth the investment. However, think about how much money is invested in having a verdant, lush green lawn. Given the amount of money invested in watering your lawn to keep it happy, don't you think that having a sprinkler system would be worth it?
Irrigation System Repair
If you have a drip irrigation leak, we are there to help you fix it with our professional who carry out Irrigation Repairs. It can be repaired with a piece of the new polyline and two couplers. It's easy to do. We just cut the existing polyline with a pair of hand pruners at the leak and cut a new piece of the polyline to replace. We add a coupler on each side of the new poly and connect it to the existing, and the job is done. Newer, more durable poly line material is now available. This reduces leaks because it is more resistant to animal damage and the elements. Emitters have also been improved. The newer ones last longer and stay attached to poly and spaghetti lines better.
Call the Expert Licensed Irrigators in Bryan and College Station
Are you a resident of Texas and you are in need of landscaping services, Do not hesitate to call Bryan Landscaping company for free quotes and we will be more than happy to serve you. We provide Landscaping Services to residents and businesses in Bryan, TX and College Station, TX. We offer residential and commercial landscaping services including irrigation work, landscape design, stonework, lawn care, and softscapes.
Sprinkler Systems: Frequently Asked Questions
What are the benefits of having an irrigation system installed on my property?
 Sprinkler systems are beneficial for your property for many reasons! First and foremost, they eliminate the need to water your grass by hose. Hose watering can be exhausting, and it often isn't even as effective as an irrigation system. Our sprinkler systems will evenly water all areas of your lawn so there are no dry patches or overwatered areas. Sprinkler systems will beautify your property and save you time. They are also useful when you'd like to sell your home. Irrigation systems actually add to the value of your property!
Will my sprinkler system waste water?
 Contrary to popular belief, your irrigation system won't waste water and hike up your bills. In fact, it will do the opposite! Hose watering often uses more water than sprinklers, and it leads to uneven watering. Our sprinklers are placed in optimal positions so your lawn is properly watered without waste. They are more efficient than a garden hose, and more convenient as well. If you want to save money on water bills and save yourself effort in lawn care, call us for more information about our services!
What are the major parts of an irrigation system? 
Our sprinklers have several major parts. You can choose from either rotary sprinkler heads or pop up spray sprinkler heads, depending on your lawn's needs. We also offer automatic sprinkler controllers so your sprinkler system will water your lawn on a schedule. Rain sensors will also help you conserve as much water as possible. Finally, our sprinkler valves and pipes are good quality materials that will last for years and keep your grass properly cared for! We use only the best materials, and we hope you'll choose us to provide you with an excellent sprinkler system.
Our Services
Click on any of the links below to find out more about any of the services that we offer.